Permanent fire escape ladder for your home, window, apartment, balcony
An alternative solution for a safe evacuation.
An
emergency staircase
is the safest, best and most accepted escape route. In practice, an escape ladder can be a substitute solution for fire escape when there is a lack of space, a limited budget, the building is aesthetically valuable or multiple escape routes are recommended.
FAQ
When can a fire escape ladder be used?

Evacuation ladders are a great alternative to fire escape stairs:

If there is not enough available space for a stair: an emergency staircase is a bulky solution and there is not always enough space available around the building.
If specific aesthetics and planning / board requirements exist: for historic or aesthetically valuable buildings, planning regulations do not always allow for the placement of an exterior staircase. A well-suited aesthetic solution in this case is the JOMY Retractable Ladder because it is discreet secured and modern.
If the layout of the building requires such a solution: sometimes it is better to provide multiple escape routes - for example and depending on the situation, it may drastically increase overall safety to have one fire escape stairway and two additional ladders strategically placed around the building.
For costs reasons: an escape ladder is much cheaper than exterior stairs. So, it is reasonable to say that there are many situations in which it can be economically justified to buy a ladder, even if it's not the preferred evacuation solution.
How do you choose between a fire escape ladder and a staircase?

Because ladders are a substitute solution for emergency evacuation, the following criteria are often used when choosing them over a staircase. Please note that some depend on applicable rules and regulations for the specific location and situation of the building:

Number of people: the number of persons to be evacuated via a ladder is sometimes limited to 10.
Number of stories: in some cases a ladder can only be used for the height of 3 to 5 floors. There are also many occurences where a ladder is allowed above certain heights only if it is used to reach the flat roof from the upper floors.
Nature of the people to be evacuated: depending on the physical and mental abilities of the people to be evacuated, ladders are sometimes not an ideal choice. For example, they are not recommended for the evacuation of very small children, some elderly people, people with mental disabilities, or those with limited mobility.
Familiarity of the users: practice makes perfect. It's always an advantage when the user has tried, practiced and learned how a particular ladder works. If this is possible for a family or small office, it's not for a public place like a museum or theater where visitors are always different.
How popular are fire escape ladders?

Although they are best used as an alternative solution to fire escape stairs, ladders make up about 75% of all escape routes in existing buildings. This is due to many factors: accessible price, compactness and aesthetics (especially true for JOMY Retractable Ladders).
What is the best fire escape ladder?

It all depends on the context but the options available on the market can be categorized as such:

Permanent fire escape ladders: because they are solid and fixed to the facade or other supporting structure, we believe that this kind of ladder is the best solution - especially when made of long-lasting aluminium. If well engineered, built and installed correctly, they indeed are the most sturdy, reassuring and secure type of fire escape ladders.
Portable / roll-out fire escape ladders: these ladders are made of different materials like ropes, chains, plastic or fabrics. They usually are ''thrown-out the window'' or unrolled and hooked to window sills or balconies. If you have tried one yourself you'll come to the same conclusion as us: these ladders are very flimsy, unstable and impossible to use by more than 1 person at a time. Needless to say we don't recommend these ladders unless impossible otherwise.
Are cage ladders good fire escape ladders?

For:

Standards for access and service ladders require that a ladder with a height of 3 m or more be equipped with a cage (except if they are fitted with a vertical lifeline and arrest system).
The back protection on caged ladders offers users a sort of psychological reassurance as it creates a physical barrier between them and the open space behind. This can contribute to lower stress levels and thus create a safer evacuation process for the users.

Against:

The cage itself may become an obstacle in certain situations, for example when someone is trying to evacuate with goods instead of focusing on getting out safely.
A person in panic may block the ladder in a more problematic way due to the fact that the cage restricts the pathway.
A cage ladder may be difficult to use by firefighters with equipment on their back.

Thankfully, many other types of evacuation ladders are available.
How can you improve the safety of fire escape ladders?

Make sure that you choose a sturdy, durable and easy-to-use permanent fire escape ladder.
Installation must be done as per the manufacturer's requirements. If needed, JOMY has its own installation teams with professionals active from Belgium.
Verify periodically that the ladder remains correctly fixed to the supporting structure.
Provide a safe access path to the ladder. This can involve access balconies, fall protection systems like lested roof guardrails, or walkway platforms.
If the ladder is very high, options like restplatforms and landings can be added in order to make the descent easier.
Make an evacuation plan and practice getting on and down your ladder.
How can you secure a fire escape ladder against burglars, thiefs and intrusions?

JOMY Retractable Ladders are by nature already secure as they do not provide a climbing path when in the closed position. They can also be configured to have no opening handle whatsoever on the bottom. If one opening mechanism is needed near a less secure entry or exit point, it can be protected by a locking hub and padlock.

On cage ladders and fixed ladders without cage, many options are available:

The security door equipped with a paddlock.
The security door equipped with a padlock and an additional gate to block the cage entrance.
Fire escape ladder for window evacuation
Windows are everywhere and many are well-positionned to accommodate a safe escape route. In this regard, many fire escape ladders on the market are designed in order to be "lightweight" and "portable". They are essentially used by first "throwing them out" of the window: rope ladders with wooden or plastic rungs, flimsy chain ladders, ladders with carabiners, etc. Needless to say that we don't recommend using such solutions as they are very unstable, impossible to use by multiple people simultaneously and provide no sense of safety whatsoever in conditions that are potentially very stressful already!
JOMY's window fire escape ladders are permanent, durable, sturdy and reassuring. We believe in dependable solutions in order to increase safety during the evacuation process as well as for the use by emergency services.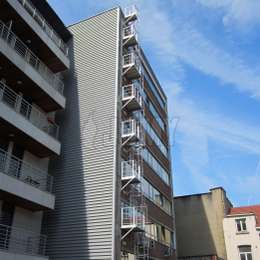 Building fire escape ladder and custom-made evacuation access balconies for window egress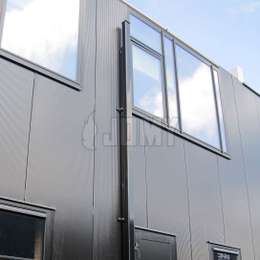 Black retractable ladder to escape from an office building window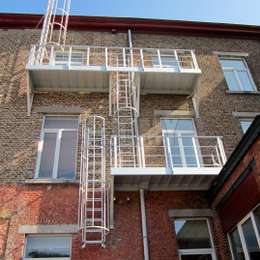 Fire escape solution for multiple windows and comprising of balconies, cage ladders and a drop-down ladder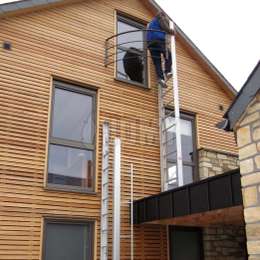 2 retractable ladders to escape from a window onto the roof and then ground level
Fire escape ladder for balcony evacuation
Balconies provide a great access point for fire escape ladders. Depending on the type of building they are either integrated to the structure already or custom-made and added later. These balconies can be equipped with a removable guardrail or gate in order to make it easier to reach the ladder itself.
JOMY's access balconies are designed to support a load of 500kg /m².
Fire escape ladder for roof evacuation
Roofs can serve as an excellent platform from which to evacuate in case of an emergency. When flat they are sometimes used as a gathering point, but whatever the structure, they often require catwalks or collective fall protection systems in order to increase the safety on the escape route. Even though fire escape stairs are the preferred solution when a great number of people are to evacuate, ladders can sometimes be used for smaller buildings or when the situation requires them.
Hereunder are some of JOMY's solutions comprising of evacuation ladders.
1 story fire escape ladder
The height of one story doesn't seem to be much but we insist on providing ladders that are sturdy and safe to use. Indeed and after trying some of them, we believe that many so-called "portable fire escape ladders" that are available on the market do not provide a safe escape route. This is mainly due to their lack of sturdiness and the fact that a ladder that is first "thrown out of the window" is never properly secured to the building structure.
Hereunder are some example of our permanently fixed ladders to use for your home, building, apartment or office.
2 story fire escape ladder
When stepping outside at a height of 2 stories, it is mandatory to have a ladder that you can trust. It has to make your emergency evacuation as stress-free as possible. Have you tried stepping onto a flimsy rope ladder or equivalent 6 m above the ground? We have, and it's not a reassuring experience. On the other side, JOMY's permanent evacuation ladders are ideal as they are firmly attached to the fixing surface and provide a sturdy construction for you to use.
3 story fire escape ladder
Considering an average of 3 m per story, evacuating on a ladder of about 9 m is not easy for everyone. In order to reduce the stress involved at those heights we can only recommend installing an exterior fire escape staircase whenever possible. Fortunately, our permanent ladders are engineered and built to be stable and safe when used from any heights. If needed intermediate balconies can be installed in order to provide rest platforms and reduced the height of any single flight. So, should your low-rise building and situation require a fire escape ladder spanning on 3 levels, we have the right solution for you.
4+ story fire escape ladder
Although mid-rise buildings are already high for a ladder, they can still benefit from an alternative escape route that is less cumbersome than exterior fire escape stairs. Indeed, many apartment and office buildings are either already equipped with ladders that need to be replaced or need to have new ones installed, because of new regulations or a report issued after an inspection from the fire department. Whatever the reason, JOMY has the reputation of being able to provide fire escape solutions for all types of structures. Depending on the situation, ladders so high can be segmented into smaller alternating flights, linked between them by resting platforms than can also act as access balconies for different levels of the building. This ensures a smoother descent that is less challenging both physically and mentally.